Wheel spigot rings
Wheel spigot rings are among the most crucial but sadly most overlooked component of car equipment. They are designed to make sure your wheel fit securely and snugly hence vital equipment in enhancing safe and secure drive. Performance alloys used nowadays offer a wide range of wheel spigot rings to suit any aftermarket alloy wheels. Just make sure you get high quality, and correct size spigot rings for your automotive to facilitate the best possible fit. Read on to find out why spigot rings are famous, how to use them and when to use them.
What are wheel spigot rings?
Most alloy wheels are designed to perfectly fit a massive number of vehicles, meaning that the center bore size (middle of the wheel hole) doesn't guarantee a 100% fitness to a car. Wheel spigot rings are equipment made from hard-wearing metal or plastic which is fitted into the center bore of a car wheel to allow it fit safely and snugly on to the car.
The wheel can be mounted incorrectly on to the vehicle without spigot rings which can lead to wobbling or vibrating wheels. In extreme cases, the extra or continuous stress placed on your cars bolts/studs can cause snapping which can lead to coming off of the wheel while driving.

Do I need spigot rings?
It depends on your wheel situation. Some wheels like OEM wheels are designed to be OEM friendly and manufactured to the exact tolerances hence fitting correctly to the car leaving no space for spigot rings. Consequently, double check before installing any new wheels to the vehicle or consult automotive professionals to know more about the matter.
In the long run, these components are essential because they center a car wheel which can't be facilitated by the bolts alone, hence if the professional at the fitment center says your car requires them, please go for them.
Internet of things provides a lot of ideas, but you are not bound to believe everything on it. In some cases, a product can have flaws or can be close to perfection. Don't assume your vehicle doesn't need spigot rings: check with the nearest fitment center.
Opt using metal spigot ring instead of plastic ones. Spigot rings are meant to transfer the car weight to the wheels; hence plastic rings can develop a play due to wear and tear. Metallic ones with correct grade and size will be far more robust and enhance longevity.
What size of wheel spigot rings do I need?
All alloy wheels include information on what size of wheel spigot rings your vehicle needs. If the data isn't provided or you doubt it, please visit the nearest reputable fitment center to know more about them. Also, we do have an online database of wheel fitment parameters for each car model. You can look it up here.
How to install spigot rings
Wheel spigot rings are easy and quick to fit even by yourself at home in a few minutes. Remember that alloy wheels suit a wide variety of automotive meaning that spigot rings might not precisely fit your vehicle's hub exact size. Even a slight difference between the vehicle hub and the center bore size in your wheels can cause nasty wheel vibrations.
First, make sure that your alloy wheel center bore hole is clean and free from burrs, and if you had previously installed one then get rid of the old spigot rings.
Second, insert the wheel spigot ring into the hole precisely in the back of the alloy wheel and make sure it sits safely and securely, then flush with the mounting face on the wheel rear. Ensure the ring is not loose or popping out of the wheel.
If by any chance the ring doesn't sit flush with the mounting face of the wheel, don't force fitting it as this can impact in an incorrect installation. Besides, some spigot rings feature a tapered edge for guiding the ring towards the car hub, therefore, make sure every component is positioned to its correct place for the ring to sit safely and securely in the wheels' center bore.
Conclusion
There are a wide variety of vehicles in the market with different wheels sizes, brands and even fittings. Evaluate your car before opting to install wheel spigot rings. The best time to use spigot rings is when replacing your wheels with alloy wheels.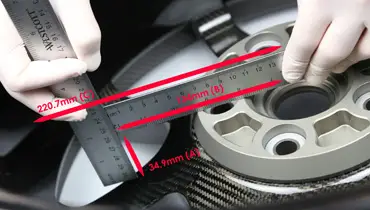 Wheel fitment guide for all car models by brand and year. Find rim sizes PCD bolt patterns and other details.
Still have questions? Feel free to comment below.